Scopus-indexed journals
Doing PhD itself is the hardest and most challenging part of PhD student's life. Writing and publishing your research work in a Scopus- indexed journal may be the toughest part. So, hiring experts for your research paper publication will be the best choice.
After several years of hard work and research, there is a great joy of getting your research work published in a research paper is enormous. But do you know what can give you a happy feeling? Get your work published in a great Get your work published in a world-standardized journal such as a Scopus-indexed journal. Now, do you want the list of Scopus-indexed journals for 2022 and 2023? Just come out of worries, we got you covered. Here, you can talk with our team of experts and get the entire list of Scopus-indexed journals from the hands of experts. You can get to know what is a Scopus, and Scopus-indexed journal, what are the benefits of getting published in it and why is it so significant.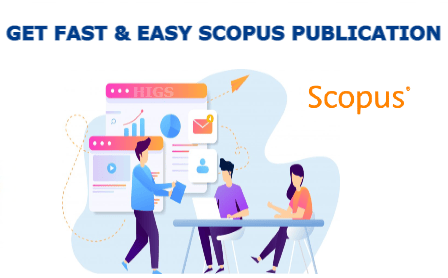 What is Scopus indexed journal?
Scopus is known as Elsevier's abstract and citation database was introduced in 2004 in order to improve the progress in sciences and healthcare for institutions and professionals. It is recognized as the best abstraction and citation database for peer-reviewed journals. So, if a Scopus- indexed journal is recognized as Scopus-indexed, it means that the works published by them in their journals are also cited amongst the 70 million other works fixed in the Scopus database.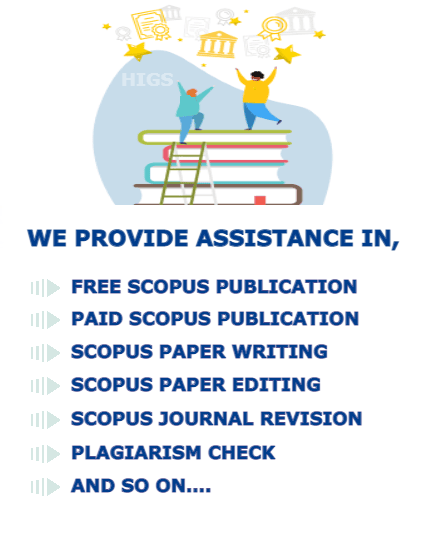 Publish your paper in scopus
How to publish research papers in Scopus-indexed journals in 2023 ?
Common rules to submit the manuscript
| | |
| --- | --- |
| | Here at HIGS, you get to know the entire list of Scopus- indexed journals for various domains. You can also talk with the experts to know the details about free or paid journals for 2023. Our team will also guide you on how to do journal publication. |
| | For Scopus publication, scholars should submit rich and professional research papers that must meet the journal's guidelines. Each and every scientific journal have specific guidelines and formats. You must follow those specific guidelines while writing your research paper. If your journal paper doesn't meet the journal guidelines, then the HIGS team will suggest you the journal paper rewriting with the help of writers. |
| | For Scopus publication, it is highly important for publications to provide an exclusive license for publishing journal manuscripts. It is highly required to publish a plagiarism-free journal paper that meets the journal's given plagiarism percentage. If your paper doesn't meet the plagiarism percentage, then it is time to hire an expert to meet the journal's expected plagiarism percentage level. Our team will help you in reducing the plagiarism percentage with the help of Turnitin plagiarism software which provides the highest accuracy of plagiarism percentage. You can also download the free Turnitin plagiarism report from us. |
| | And the next thing that arises while submitting your research paper is a cover letter. Your cover letter must contain a brief overview of the manuscript and the contact information of a research scholar that includes full name, e- mail address, phone number, mailing address, and more. It must display the number of items such as figures, tables, supplementary information, and more. |
| | It must include the statement that indicates the article has not been published in another publication and is not being submitted to another journal. |
"Your general research paper must be clearly written in English. If you want any help from the hands of experts, then you can contact team HIGS to edit & proofread your research paper"
Format of Research Articles
Your research paper must state the original piece of research and must address a clearly stated specific hypothesis or a research question. Your research paper must provide novel approaches and novel insights of the research problem. Your research article must have the following sections. That includes,
Title page
Author's information
Present address
Abstract
Keywords
Introduction
Materials

Methods
Results
Discussion
Acknowledgments
References
Tables
Figures
SCOPUS journal paper writing guidance
While writing a Scopus journal paper, you must follow the general rules that are given below.
Your Scopus journal paper must be written in a Standard English
You must write your paper on the basis of a customized format according to the journal
Your research paper must have a clear explanation of the scope of the journal.
Your paper must have a clear Mathematical formulation/ equation of the given data
Your paper must have plagiarism free from a single source less than 1%
What HIGS will give you in the service of SCOPUS journal publication?
HIGS provides endless support for your research work. We undergo fast and easy journal paper writing without duplication. We always meet your journal paper writing rules with the help of experts. Our team HIGS will give you the following promises such as,
Clear Scopus research paper writing support with domain experts.
We help you to write a winning research paper with a good research paper format
We provide clear plagiarism-checking reports with less than 5% by using Turnitin plagiarism software.
We provide detailed research paper revisions without any grammar and technical corrections
We provide a good explanation for your Scopus research paper
We do unlimited and free journal revision
Our team of researchers will provide full-fledged research results and algorithms on the basis of your research topic.
Writing your Scopus research paper with the research team support
Also, you must include a detailed description of algorithms and pseudocodes
You must provide sufficient information, figures, tables, and graphs
What do we follow while publishing a research paper?
Here, HIGS follows a unique pathway for journal publication.
You can contact our business coordinators for Scopus journal publication
You can also check your price quotes, offers details and more.
You can send your paper to us, and we will analyze your paper and suggest you an appropriate journal name to you.
If it is below the quality level of the journal, then we suggest you for the paper rewrite it.
Finally, after all the processes such as revision plagiarism check, and grammar check, we will forward it to the journal.
You Can Reach Us Anytime For Any Queries. We Are Not Only Here For Scopus Indexed Journal Publication, We Are Also Here For Handling Your Entire Research Work. We Meet Your 100% Satisfaction Level. You Can Contact us Anytime Through Call At +916382814563, You Can Send Mail At researchguidance@higssoftware.com , You Can Hire Us Through Whatsapp At +918681018401.